Japanese cuisine using vegetables and fish in season:
Our ryokan has a strong commitment to serving food of the four seasons with great taste. Look forward to it!
Sansuien Cuisine
Japanese cuisine of Sansuien
made from locally produced Yamaguchi ingredients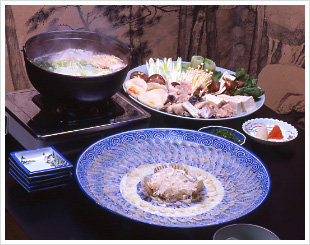 As much as possible we serve local cuisine of Yamaguchi Prefecture featuring fresh and safe seasonal ingredients. Yamaguchi Prefecture is surrounded by two seas, the Sea of Japan (Nihon Kai) and the Inland Sea (Seto Nai Kai), so it is blessed with an abundance of seafood. Especially puffer fish (fugu) in winter and pike eel (hamo) in summer are rare specialties. In addition, there are edible wild plants and a variety of cultivated vegetables such as the splendid Ato Tokusa rice grown at high altitude, the Shimonoseki Yasuoka green onions and burdock of Mito Akagou.
Colorful seasonal taste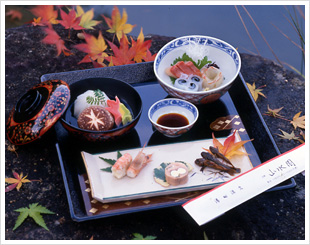 The menu is changed monthly, so you always enjoy a seasonal taste. Warm dishes are served warm, cold dishes are served cold as the ryokan kitchen prepares food for the meal at the unique pace of each customer. While experiencing the cuisine of the four seasons, please relax and enjoy the food.
Dishes that echo in your memory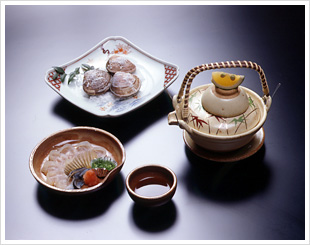 From the dishware, to the service and food preparation, we do our best to offer the spirit of hospitality. While avoiding dishes that may seem strange, we serve many traditional dishes of Japanese cuisine which appeal to both the eye and the tongue.
Moreover, by using material and recipes used in the Ouchi era (500 years ago), we emulate the taste of old-style Japan.
Commitment to cuisine
Japanese food has become an intangible cultural asset according to UNESCO. The beauty of preparation along with the feature of delicate "umami" taste has now captivated even first-class foreign chefs.
Surrounded by the sea from northeast to southwest, Japan is blessed with an abundant variety of food. And because there are changing seasons, you can taste the grace of every new season with a new food without resorting to stored food.
Our thought is that for Japanese cuisine, the freshness of the ingredients is its life.
So the food we use is always fresh and safe.
Warm dishes are served warm, cold dishes served cold, according to your taste.
In addition we make an effort to offer meals that avoid waste, leftovers and food loss as much as possible.
The small amount of food waste is passed to recyclers to use in creating compost or fertilizer.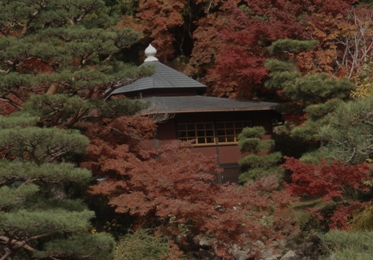 Enjoy the still water of the Chisen pond garden from Rinsui Restaurant,
or enjoy the hot springs bath at Suizan-no-yu spa, or enjoy both!